Welcome to the official website of Sasha Valeri Millwood
Composer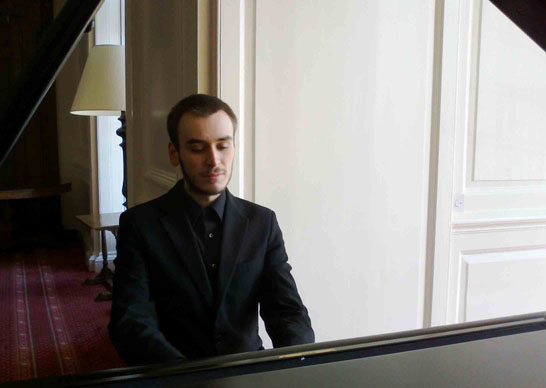 Millwood started writing music when he was five years old, and commenced formal composition lessons, with Clement Power, in 2004, under the auspices of the Royal College of Music Junior Department. In 2008, he came Highly Commended in the BBC Proms Young Composers' Competition and the Joan Weller Composition Competition, the former resulting in a professional performance at a BBC Proms Plus event. He was selected for the National Youth Orchestra Composers' Course 2010, resulting in performances of his work in London, Birmingham, Gateshead, and Snape. His undergraduate education was undertaken at Girton College, University of Cambridge, where he was taught composition by Giles Swayne, whilst pursuing his interests in counterpoint — a recurrent trait in his compositional output — through the study, under the tutelage of Dr Martin Ennis, of fugue, attaining the highest mark in the four‐hour fugue paper (sat in 2013) and in the coursework fugue (sat in 2012). His Master's degree was undertaken at the Guildhall School of Music & Drama, where he was taught composition by Laurence Crane.
Introverted both as a composer and as a person, Millwood possesses an obsession with quantitative methods (such as dodecaphony, isorhythmic systems, set‐class theory, and Golden ratios) of (pre‐)composition, although the stricture with which he deploys such methods is variable. In pursuing such interests, he strives not to lose sight of the importance of maintaining a musicality of gesture.
Millwood has experience of composing in a variety of contexts, including concert music, incidental music, dance music, electronic music, and theatre music. He has collaborated with practitioners in other art forms, including choreographers, actors, and poets.
In London, his works have been performed in venues including the Southbank Centre, Drapers' Hall, Carpenters' Hall, the Guildhall School of Music & Drama, the Royal College of Music, the Royal Ballet School, The Place, Blüthner Showrooms, and St John's Notting Hill. In November 2014, the world première of Learning lines, a collaboration with poet Dr Edwina Attlee, took place at the Wigmore Hall. In Cambridge, his works have been performed in West Road Concert Hall, Madingley Hall, King's College Chapel, St John's College, Queens' College, St Catharine's College Chapel, and, of course, Girton College. Farther afield, his works have been performed in The Sage Gateshead, Birmingham Town Hall, and Snape Maltings Concert Hall.
Millwood is open to new opportunities to write music, or to programme one or more of his existing works (a work‑list can be provided upon request).
Transcriber/orchestrator
Millwood has made all manner of transcriptions, from free adaptations of folk material (as part of the EFDSS Living Song project) to arrangements of canonic works for idiosyncratic instrumentations. He particularly enjoys taking a facet from existing material and distorting it beyond perceptible recognition — one recent project involved applying atonal transformational techniques to fragments of the alto part of a Gesualdo madrigal as a starting point for a new piece scored for the instrumentation of Sciarrino's Le voci sottovetro. However, he is also in demand for pastiche arrangement — indeed, his scoring of The Golden Vanity for the City of London Festival was broadcast on BBC Radio 3, in June 2014.
Contrapuntist
Millwood has long held a propensity towards contrapuntal textures in his compositional and improvisational practice, even in the years before his undergraduate studies in harmony and counterpoint, and especially fugue. He considers the challenge of negotiating the manifold demands of fugal writing to be highly locupletative, both compositionally and more generally. One recent commission which he particularly enjoyed was writing a chorale fugue for soprano, clarinet, harp, and double bass.