Welcome to the official website of Sasha Valeri Millwood
researcher • musicologist • music theorist • composer‑contrapuntist‑pianist
Member of the Performing Right Society and the Incorporated Society of Musicians
home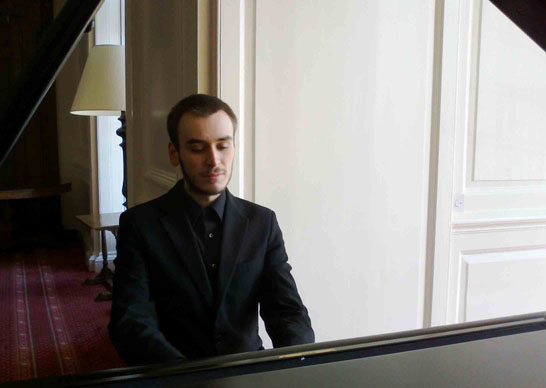 Sasha Valeri Millwood is a musicologist, music theorist, and composer‑contrapuntist‑pianist who takes an intellectual approach to his diverse array of musical endeavours, utilising his élite education and research, both academic and vocational, to elucidate his artistic practice. Dissenting from the propensity to isolate the sub‐disciplines that comprise the art and science of music, Millwood seeks to draw upon his various specialisms, from pitch‐class set theory and serialism to Classical improvisation and figured bass, to inform all of his work, whether it be academic writing, performing, accompanying, composing, transcribing, proof‑reading, teaching, or analysing manuscripts.
In particular, Millwood considers the insights from his professional performing experience to be an integral facet of his compositional practice (notwithstanding the irony that he composes at a desk, and never at the pianoforte), and vice versa (whether he be performing a work written today or written centuries ago).
For the last four years, the crux of Millwood's professional life has been his doctoral research on the compositional praxis of Thea Musgrave, under the joint auspices of the University of Glasgow and the British Library (Arts and Humanities Research Council Collaborative Doctoral Partnership). In addition to the thesis itself, outputs from this project include a pair of in‐depth interviews with Musgrave, the organisation and cataloguing of Musgrave papers in the British Library, and a chapter in the forthcoming edited volume Writing about Contemporary Musicians: Promotion, Advocacy, Disinterest, Censure. His undergraduate education was at Girton College, University of Cambridge, where he attained (with upper‑second‑class honours in each of the three parts of the Music Tripos) the degree of Bachelor of Arts / Master of Arts. This was followed by postgraduate studies at the Guildhall School of Music & Drama, where he attained the degree of Master of Music (with Distinction) and undertook advanced studies at the Centre for Classical Improvisation and Creative Performance.