Welcome to the official website of Sasha Valeri Millwood
composer • contrapuntist • pianist • violinist
Sasha Valeri Millwood, born 1992, started writing music when he was five years old, and commenced formal composition lessons, with Clement Power, in 2004, under the auspices of the Royal College of Music Junior Department. In 2008, he came Highly Commended in the BBC Proms Young Composers' Competition and the Joan Weller Composition Competition, the former resulting in a professional performance at a BBC Proms Plus event. He was selected for the National Youth Orchestra Composers' Course 2010, resulting in performances of his work in London, Birmingham, Gateshead, and Snape. His undergraduate education was undertaken at Girton College, University of Cambridge, where he was taught composition by Giles Swayne, whilst pursuing his interests in counterpoint — a recurrent trait in his compositional output — through the study, under the tutelage of Dr Martin Ennis, of fugue, attaining the highest mark in the four‐hour fugue paper (sat in 2013) and in the coursework fugue (sat in 2012).
Having graduated in June 2013 from Cambridge with the degree of Bachelor of Arts, with upper‑second‑class honours in each of the three parts of the Music Tripos, Millwood is currently enrolled on the postgraduate Artist Programme in Composition at the Guildhall School of Music & Drama, with financial support from the David Luck Award, the RVW Trust, and the Billericay Educational Trust. He is taught by Laurence Crane.
Introverted both as a composer and as a person, Millwood possesses an obsession with quantitative methods (such as dodecaphony, isorhythmic systems, set‐class theory, and Golden ratios) of (pre‐)composition, although the stricture with which he deploys such methods is variable. In pursuing such interests, he strives not to lose sight of the importance of maintaining a musicality of gesture.
Millwood also teaches, accompanies, and is in frequent demand for proof‑reading, typesetting, transcribing, and writing programme notes.
Composer
Millwood has experience of composing in a variety of contexts, including concert music, incidental music, dance music, electronic music, and theatre music. He has also made a number of arrangements, transcriptions, and orchestrations. In London, his works have been performed in venues including the Southbank Centre, the Royal College of Music, the Royal Ballet School, The Place, and Blüthner Showrooms. In Cambridge, his works have been performed in West Road Concert Hall, Madingley Hall, King's College Chapel, St John's College, Queens' College, St Catharine's College Chapel, and of course Girton College. Farther afield, his works have been performed in The Sage Gateshead, Birmingham Town Hall, and Snape Maltings Concert Hall. Some of his compositions have received multiple performances (in 2013, the first movement of his recent pianoforte duet had four, each time featuring the composer as one of the pianists).
Pianist
Millwood has studied pianoforte since 1997, and is currently taught by Matthew Schellhorn. He was awarded the Girton College performance scholarship in 2010, and one of the College's Daphne Bird instrumental exhibitions in 2011 and 2012. He is active as a solo pianist, accompanist, chamber musician, pit‐band performer, and répétitur. Whilst at Cambridge, Millwood undertook masterclasses with Ian Jones, Simon Lepper, John Reid, Mateusz Borowiak, and Richard Goode. He has also performed on other keyboard instruments, including harpsichord, chamber organ, and harmonium.
Recent highlights include solo recitals at West Road Concert Hall (Cambridge) and St Giles' Church (Cambridge), a performance of Britten's Canticle I with tenor Andrew Kennedy at Girton College, a performance of the second movement of the Finzi Clarinet Concerto with clarinettist David Mears at West Road Concert Hall, a harpsichord recital in Girton College Chapel, répétitur work for two Britten operas (The Rape of Lucretia and A Midsummer Night's Dream), and an improvisation at the Cambridge Nae Ball (a free evening of music, noise, and poetry, mounted as a protest against the expense and decadence of May balls).
Millwood plays a wide repertoire, ranging from Bach and Scarlatti to his own compositions and pieces written for him by other living composers. In 2010, he was awarded the Constance Poupard Prize for his contribution to the performance of student compositions at the Royal College of Music Junior Department. In 2013, he won the Alkan competition hosted by Fitzwilliam College.
Venues at which Millwood has performed include the Amaryllis Fleming Concert Hall (Royal College of Music, London), the Wigmore Hall (London), Blüthner Showrooms (London), West Road Concert Hall (Cambridge) and several Cambridge Colleges, including Queens', King's, St John's, St Catharine's, and Girton.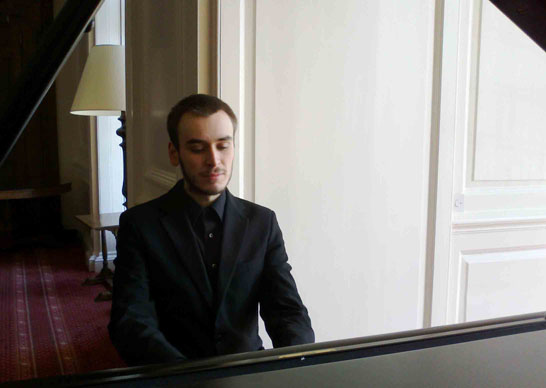 Violinist
Millwood has studied violin since 2000, and is currently taught by John Gillow. Most of his performing experience on violin is as an orchestral or ensemble player, in which capacity he has, during his undergraduate years, played for the Cambridge University Musical Society Symphony Orchestra (CUMSSO), Cambridge University String Ensemble (CUSE), Cambridge University New Music Ensemble (CUNME), and a number of College Music Society concerts, especially Girton. He has had the privilege to be seated with a number of stellar desk partners (including about half‑a‑dozen NYO alumni), and has played under many distinguished conductors/directors, including Dr Martin Ennis, Margaret Faultless, Gerry Cornelius, Martin Yates, Libor Pešek, Sir Mark Elder, Graeme Jenkins, and Sir Roger Norrington. Millwood currently plays in the Asyla Ensemble.
Enquiries
Millwood does not have (and has never had) any profiles on social networking websites (if you find any that purport to represent him, please report them as impersonation), although he can be found in certain professional directories, some of which have enquiry forms. Cambridge alumni may obtain his electronic‑mail address from this directory.