Welcome to the official website of Sasha Valeri Millwood
composer • contrapuntist • pianist • violinist
Member of the Performing Right Society and the Incorporated Society of Musicians
home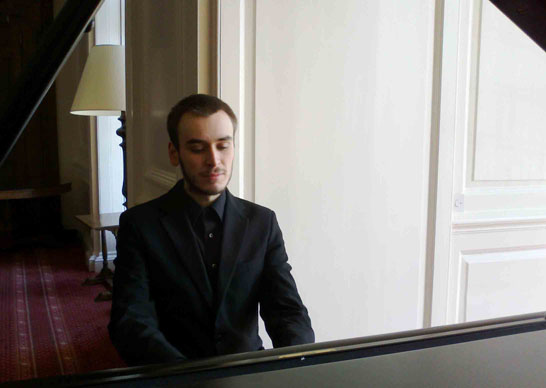 Sasha Valeri Millwood is a composer‑contrapuntist‑pianist who takes an intellectual approach to his diverse array of musical endeavours, utilising his élite education and research, both academic and vocational, to elucidate his artistic practice. Dissenting from the propensity to isolate the sub‐disciplines that comprise the art and science of music, Millwood seeks to draw upon his various specialisms, from pitch-class set theory and serialism to Classical improvisation and figured bass, to inform all of his work, whether it be academic writing, performing, accompanying, composing, transcribing, proof-reading, or teaching.
In particular, Millwood considers the insights from his professional performing experience to be an integral facet of his compositional practice (notwithstanding the irony that he composes at a desk, and never at the pianoforte), and vice versa (whether he be performing a work written today or written centuries ago).
Millwood studied at Girton College, University of Cambridge and at the Guildhall School of Music & Drama, attaining the degree of Bachelor of Arts (with upper‑second‑class honours in each of the three parts of the Music Tripos) from the former and the degree of Master of Music (with Distinction), specialising in composition, from the latter.
News — recent publications
Extracts from Learning lines, a composition written in collaboration with poet Dr Edwina Attlee, have been published in the latest issue of Litmus (ISSN: 2054‒8915). Click here to purchase your copy.
Millwood debates concert etiquette, against Fiona Maddocks, in The Observer.